GeneratePress free vs premium – Comparison And Review (2022-2023)!
In GeneratePress free theme, you won't be able to use most of the features you need to give a good premium look to your website. You don't have any options to customize your header. You have to customize your website with limited layout settings. You will get limited color customization options. A limited Generate Block feature is available in the free version. Spacing, padding, and secondary navigation features are missing in the free version. You can't disable specific elements and Featured Image Options are limited in the free version of GeneratePress. You won't get WooCommerce Options in the free version.
Read this article to know all the limitations of the free version and the benefits of the premium version.
GeneratePress free vs premium | Comparison and Review
In this article, we will discuss every single detail about GeneratePress free vs premium. GeneratePress is one of the most popular WordPress themes now because of its Speed and high-quality structure. For this reason, it is very popular in the WordPress directory. As we all know it has two different versions, GeneratePress free and premium.
You can download and install its free version from the WordPress dashboard. But the free version comes with limited features. You can not access all the necessary features you need to design a good look for your website. As I have already said, it comes with a decent amount of features. The premium version of this theme is not actually a theme, it's a plugin that will unlock the premium features from the free version of GeneratePress.
GeneratePress Free vs Premium – Basic overview
Let's look at all the limitations and benefits of the free and premium versions of GeneratePress.
| | | |
| --- | --- | --- |
| Name | GeneratePress Free | GeneratePress Premium |
| Price | Free | $49 per year |
| Sites | Unlimited | Unlimited |
| Layout Control | Limited | Yes |
| Demo sites | No | Yes |
| Site Library | No | Yes |
| Footer Customisation | No | Yes |
| Colors Customization | No | Yes |
| Typography Settings | No | Yes |
| Elements Module | No | Yes |
| WooCommerce Options | No | Yes |
| Menu Plus | No | Yes |
| Spacing Options | No | Yes |
| Blog Module | No | Yes |
| Secondary Navigation | No | Yes |
| Background Options | No | Yes |
| Sections Module | No | Yes |
| Disable Elements Option | No | Yes |
| Editable Copyright | No | Yes |
| Import/Export | No | Yes |
| Page Builder Compatibility | Yes | Yes |
| Mobile Responsive | Yes | Yes |
| Full Width or Contained | Yes | Yes |
| Top Bar Widget Area | Yes | Yes |
| Text or Image Logo | Yes | Yes |
| Navbar Options | Yes | Yes |
| Featured Images | Yes | Yes |
| Footer Widgets | Yes | Yes |
| Footer Bar | Yes | Yes |
| Back to Top | Yes | Yes |
| Generate Block features | Limited | Yes |
| Editable Copyright | With CSS | Without CSS |
| Fast | Yes | Yes |
| SEO friendly | Yes | Yes |
| Featured Image options | Limited | Yes |
GeneratePress Free
Although the free version has limited features, still it has many advantages that other free themes hardly offer. It is very easy to use. You don't have to look for features, all the features are arranged where they should be. There are no features that can be considered hidden.  One of its most noticeable features is its speed and schema markup. There is hardly a free theme that has these features. /
Most of the free theme is not so much customizable, but GeneratePress free version is very friendly with Elementor page builder. You can customize it with your own creativity with it.
You will get most of the basic customization options in this theme. So it can be said that, though it is a free version with limitations, still it is highly recommended, useable, and user-friendly.
Free Version Features
As I have already discussed the free version of GeneratePress but still it has more to discover in the free version. There are a couple of features you will love. Let's see them and explain them.
Contained and full-width option

It gives you the option to create your theme contained inside boxes or in the whole browser window.


Mobile User friendly

Though this is a free theme, this theme is mobile-friendly. For ranking higher on google you must focus on mobile usability on your website. According to analysis, most of the visitors are mobile users. So this is an important feature of the GeneratePress theme. So let's check in google.

You can check the result and I hope you understand the importance of this feature.

Fast Loading Speed

We all know how loading speed impacts SEO. In order to rank higher in google, loading speed is one of the most important factors.
After an analysis, the average loading time of the GeneratePress themes free version is 2s which is very good for higher SEO rankings.

SEO optimized theme

After comparing GeneratePress free theme to other free themes, it's 10x better than any other free theme in terms of SEO. This is SEO-friendly and schema optimized. As a result, google understand your website better and faster.

Fonts and typography options

Although this is a free theme, it gives you more than 100 fonts to use.  You will also get a font customization option by changing their typography. For example size, weight, etc typography options.

Custom CSS

You will get some more features that other free themes provide rarely. One example is, you can edit your theme with your own custom CSS. It helps you to add a custom option that the free version of the theme doesn't have.


One-click reset
Sometimes you may need to reset all the settings you made. For that, you have the option to reset all the settings you have made with just one click.


Back to top option

Back to top button is one of the most common features on every website. So this is an important option considering other web pages.  This feature is common and almost every free theme provides this option. But yet.

Logo/site name option

The logo is an important part of every website. In this theme, you can your custom logo as you like.
Within the free version of GeneratePress, you'll include a content title to your subject at the side of your location tagline Also, you'll alter the arrangement of the title and tagline or include a symbol to your site.

Navigation Bar Customization Options
GeneratePress Premium version features
GeneratePress premium is a paid plugin that unlocks the pro features of GeneratePress. In GeneratePress Premium, you will have some extra modules in the customizer menu. That is another set of features. You will have access to these extra modules in the customizer menu,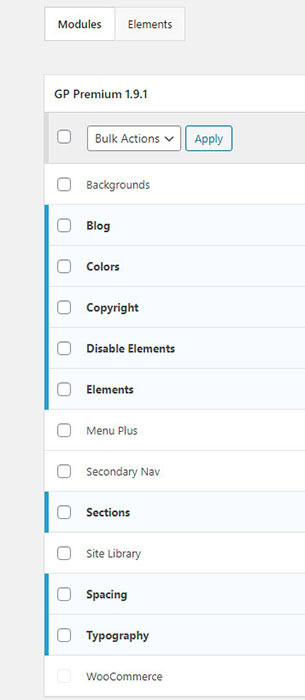 Let's know about these modules-
Modules
Blog

This module allows you to customize archives, columns, and feature images.  You can manage the display settings of authors, categories, post dates, tags, etc.

Color

The color option let you customize colors for all elements in your website, for example, you can change the color for headers, tags, post titles, and so on…

Copyright

In the GeneratePress theme, there is a copyright section in the footer of a website. You may need to customize this option because no one wants a theme watermark on their website.

Elements

This is the most impressive module in GeneratePress probably. You can customize every module partially with this feature and give your website a premium look. Its mainly made up of the following sections specifically –
Header:  To customize your website header without any page builder, is the best way to do that. You can restyle the header of your website with a new look as you wish to do. You can add background images, add text and images, edit menus, drop-down menus, and so on.

Hooks: The Hook component is one of the foremost noteworthy highlights of the premium form of GeneratePress. This component permits you to include substance into the location hook. This is to make a child theme. But this is important to create a better blog. It can moreover be utilized for superior web journal customization.

Layout:  This is such an option that you can almost create a new theme with this option. You can make layouts with your own creativity. You can use this option to create a layout for a whole site or just particular categories, archives, and particular pages as well. This is the most important in terms of creating a professional-looking website.

Block – This is the most advanced GeneratePress Element module. This is the alternate way of writing HTML codes. Mainly the basic structure of a website is created by HTML. But this block section has changed the old way to create a structure for a website. This module helps in advanced customization using a block editor instead of HTML.

Section

Section module is also known as a mini-page builder. This mini-page builder is available only in GeneratePress pro-add-ons. You don't need this option if you using other page builders like Elementor, Brave, and other page builders. But if you are using Classic Editor for editing or creating WordPress posts, then you can use this section module. This is better than the classic editor. It will give you another level of speed to create contents for your website.
But if you are using the Guttenberg plugin then you can't use this module. But Guttenberg plugin is better than this. You can use that one. GeneratePress is also compatible with Guttenberg Plugin.

Manu Plus

this option can be used for creating mobile menus. Or if you want to create a sticky menu of canvas navigation then this is the best choice for you.

Secondary nav

This option allows you to create additional menus, and add text with customizing options like typography, and more. This is also an important feature.

Site Library

You can use this option to create your website with just one click. There are more than 40 choices for you in the site library. Just select one and your website is ready within a minute.

Spacing

We all know that spacing is one of the most important features to create or customizing anything. Spacing is also important here also. You can manage padding and margins with this module. In my personal opinion, this is one of the best modules to customize anything, not only a website.

Typography

As I have said already that you will get more than 70 typography choices. You can use them for your site for free. Fonts can be customized in all sections of the GeneratePress theme. Fonts height, weight, color sections already in the body, elements, and other modules.

Import/export or backup

You can import theme settings into your local device to use in the future. If you work on many websites, then this feature is like magic for you. Just import a backup on every website and your customization is ready.
Pre-made site templates
After purchasing the GeneratePress premium version, you can access and use the complete site library. You can create a website with just a click within a minutes.
You can import an entire website from the library. You can check their site library even if you are using GeneratePress free version.
If you have page builders like Elementor and more, you can also create a professional look for your website. This theme is completely adjustable with page builders like GeneratePress and brave builder.
Pricing
I don't think it will break anyone's budget, The premium version of GeneratePress used to costs $39.95 but now their theme becoming popular and they increased its price. Now it costs $59 yearly and $249 lifetime according to 20/10/2022.  The package includes an unlimited usage license as well as one year of updates and support.
It is cheaper than any other pro themes in the marketplace as I think 🤔. Before this update, they used to sell their theme without any limitations. But now they have limited up to 500 websites. In the yearly package, you will get 1-year of free support.
Extra features of GP Premium
You will get some extra features of GeneratePress premium which is not about customization or the website, it's about the advantages you will enjoy with this theme.
24/7 support
First of all, you will get support 24/7 at any time from their support team and I think this is important. In this digital period of this world, facing problems using digital products is a very common issue. So we need support for this. So a good support team is a symbol of a better company. In the yearly package, you will get 1-year of free support.
And most importantly you will get support directly from the creator of this theme 'Tom Usborne'.
Updates
In the premium version of the theme, they regularly update their features so that users can experience better services. And everyone wants to be updated, so getting updates is an important part. The developer Top Uborne is trying to make this theme the best in the WordPress directory, so he is trying to add new features daily.
Each update comes with crazy exciting new features, and you surely don't want to miss them. With the last update of this theme, GeneratePress 3.0, the speed improved highly. After this update, the theme scored 100/100 on the GTmetrix test.
Docs ( Documentation )
If you are a beginner, then you already have experienced that customizing a website is an easy thing, but as a beginner it becomes tough. So for their user's help, they made a documentary for their theme so that they can learn and get a direction on what to do.
You can check their documentation by clicking here – GeneratePress Documentation 
GeneratePress Free vs premium Speed comparison
Google and other search engines always focus on speed and it has become an important factor in terms of SEO. For ranking higher in google, SEO optimized website is a must. And speed is the main factor of SEO. You can't be a successful blogger if your website loads at 2g speed in this digital era of 4g.
This problem has been successfully fixed by the GeneratePress theme. In the speed comparison between GeneratePress Free vs Premium, let's check how it results.
GeneratePress free speed test
Let's check GeneratePress free version speed on several platforms.
First of all, let's check in GTMatrix
GTMatrix speed test result of GeneratePress theme-
Let's check the speed in Pingdom
And finally, check run the speed test in google page insight
You can increase speed if you customize it properly.
GeneratePress premium speed test
Let's check the GeneratePress premium version speed. Firstly, let's check it in GTMetrix
Let's check it in pingdom
And finally, check it with Google Page Insights
You can see that their speed is almost the same. A little bit different, but I think it's ok. So in the speed test, the premium is the winner!
User review of GeneratePress(free version)
In case you're considering almost introducing the GeneratePress free version, you might need to keep the disadvantages and cons in intellect. We'll dig profound into all the alcoves and corners of GeneratePress in our survey, but for a speedy rundown, here's what you'll get from the Generatepress theme:
Fast and SEO optimized
Easily customizable
Lots of customizing options…
It Supports any type of project ( E-commerce, blogs, and more)
Local synergy with Flourish Designer
most of the users are satisfied using this theme. But some of the users complained about these problems-
No drag-and-drop development. You can still create beautiful websites with GeneratePress, but it's definitely a drawback for non-tech-savvy people.
Not easy to integrate with a lot of third parties, at least when compared to other plugins.
Lacks crucial tools like blog layout editing.
Not the best customer support, even if the support forum is very helpful.
User review of GeneratePress(Premium version)
The Premium version has fixed its free version problems by solving those user complaints. You will get these options in addition to the paid version.
Drag-and-drop development
Easy to integrate with other plugins and page builders.
With the best customer support.
GeneratePress Free vs Premium Conclusion
If you want full control of your site without knowing to code, GeneratePress is a great choice. It can be used in different types of projects like Blogs, E-commerce, and more. This theme mainly focuses on performance which is an important factor in terms of SEO. You have an extra chance to rank higher on google.
This theme can help you to create all types of websites with page builders. This theme allows you to customize every part of your website.
The free version of this theme is a good choice. But the premium version is the best choice, even it costs a little bit of money. But paying for getting good service is ok…
In this article, I have shown as much as possible about GeneratePress free vs premium comparison. If you like this comparison, then you can check other comparisons, theme reviews, and WordPress tricks. Visit our website again to know more. If you are still confused about choosing the best theme for your WordPress site. please check these –the best free themes of WordPress.
Love more-
Which is the best choice? GeneratePress free or premium?
After considering all things, GeneratePress premium is the best choice
Can I use GeneratePress Premium on as many sites as I want?
In its last update, it is mentioned that it can be used up to 500 websites in both free and premium versions.
Is the GeneratePress Premium version worth this cost?
GeneratePress premium version provides crazy and exciting features. You can create any type of websites like e-commerce, blogs, and more. Moreover, you can make up to 500 websites with it. So It is worth this cost.